VB-S905F
A network Mini Fixed Box security camera with ultra-compact lens technology. Its compact design makes it ideal for a range of discrete indoor commercial environments.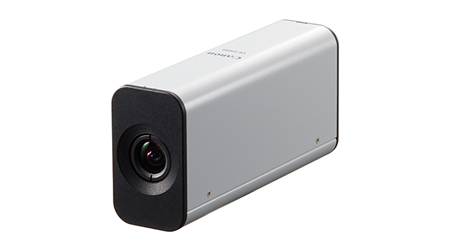 Benefits
Outstandingly compact Mini Fixed Box design
1.3MP resolution
CMOS sensor delivers high performance in low light
Wide angle f/1.6 Canon lens offers a 96° Angle of View
Multi-streaming (2x H.264, 3x MJPEG) in HD or lower resolutions
Edge recording/playback from MicroSD card (up to 64GB)
Six intelligent in-built analytics
Auto Smart Shade Control applies optimum exposure in difficult lighting conditions
ONVIF v2.2 and Profile S compliant
Ideal in a wide range of indoor commercial environments
Detailed Features
Take a look at a more detailed look into the Canon VB-S905F
HD resolution

The exceptionally compact VB-S905F Mini Fixed Box network security camera features HD (1280 x 720) resolution at 30fps. A CMOS sensor delivers impressive image quality without colour bleeding or blurred lines. Auto Smart Shade Control (SSC) optimises exposure to improve highlights and correct dark areas in back-lit scenes or low light conditions, offering a true Day/Night operation.


Outstanding Canon lens quality

The camera's new ultra-compact wide-angle lens offers a 96° Angle of View. The wide angle and low distortion of the high quality f/1.6 Canon lens delivers more light to the camera's sensor - achieving brighter and better-defined images.


Dual image processors

The dual image processors - DIGIC DV III and DIGIC NET II - enable seamless capturing, processing, encoding and transmitting of images. The internal programming has been re-engineered to deliver multiple H.264 and/or MJPEG streams in HD or lower resolutions. In addition to multi-streaming, the camera can also stream simultaneously. The H.264 encoder creates high-quality and high compression video, for smooth surveillance in a range of environments.


Easy to integrate

The camera integrates seamlessly thanks to its network camera SDK and HTTP protocol specification. Canon is a full member of ONVIF - the industry forum dedicated to the development of a global IP-based physical security interface standard. Compliance with the latest ONVIF V2.2 and Profile S makes it convenient to create a solution with ONVIF-complaint video management software.


Comprehensive on-board analytics

The VB-S905F offers an outstandingly rich set of intelligent features for such a compact device. These include Moving Object Detection, Abandoned Object Detection, Removed Object Detection, Camera Tampering Detection, Passing Detection and Volume Detection. Normally, changes in light conditions interrupt a ca
Product Specification
Find out more about the Canon VB-S905F, its features and what it can do.

Efficient Network processing

Manages image quality & control





Multiple camera management
Additional Documents
System Design Tools
Angle Of View (AOV) Calculator
Required Disc Space (RDS) Calculator
Camera Layout Simulator (CLS)
or