VB-R13
Versatile indoor network PTZ camera featuring a bright f/1.4-4.8 30x optical zoom lens, 1/3" Full HD CMOS imaging sensor, 360° continuous panning, multiple analytics functions and outstanding low-light performance.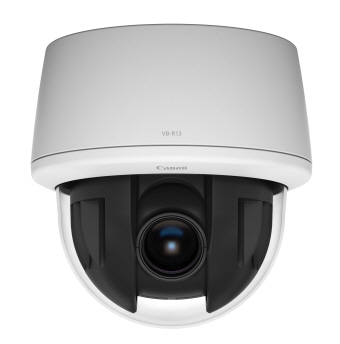 Benefits
30x optical zoom with fast, accurate auto focus and superb low-light performance
Accurate subject tracking with continuous panning and Auto-Flip
Enhanced Digital Zoom extends the camera's zoom capabilities while maximising image quality
Motion Adaptive Noise Reduction and Area-Specific Data Size Reduction (ADSR) maintains video quality while reducing bandwidth usage
Built-in analytics functions for intelligent and efficient alarm detection
Configuration and live streaming support across multiple web browsers and mobile devices
ONVIF® Profile S and Profile G compliant
Detailed Features
Take a look at a more detailed look into the Canon VB-R13
Crisp HD images for advanced indoor monitoring

The VB-R13 indoor network camera captures stunning detail even in low-light environments, thanks to its 1/3" Full HD CMOS imaging sensor. The VB-R13 combines high-quality optics, fast auto focus, powerful Haze Compensation and Smart Shade Control (SSC) to enhance details even in challenging lighting conditions. Its fast 450° per second speed of operation paired with Auto-Flip and continuous 360° panning means subjects can be tracked quickly and accurately.


Powerful zoom gets you closer to what matters

The VB-R13's 30x optical and 20x digital zoom make it ideal for surveillance and monitoring applications. When the optical zoom reaches its limit, the Enhanced Digital Zoom substitutes low-resolution images with cropped images, extending the camera's magnification while maximising image quality. The aspherical and High UD-distortion suppression lens helps prevent chromatic aberration and achieves high-resolution images from any distance.


Detailed images even at full telephoto in low light

Achieve incredible images even in near-darkness. The VB-R13 can produce crisp images in light conditions as low as 0.05 lux for colour images and 0.002 lux for monochrome images. Area-specific Data Size Reduction (ADSR) technology retains resolution in areas of interest to optimise bandwidth requirements, while intelligent Motion Adaptive Noise Reduction monitors the frame and dynamically adjusts low-light noise to optimise image quality.


Designed for the digital future

The VB-R13 offers viewing and configuration from a wide range of browsers and mobile devices, making it easy
Product Specification
Find out more about the Canon VB-R13, its features and what it can do.

Manages image quality & control

Efficient Network processing

High quality optical magnification

Improved digital magnification







Additional Documents
System Design Tools
Angle Of View (AOV) Calculator
Required Disc Space (RDS) Calculator
Camera Layout Simulator (CLS)
or